Two posts in a row? I know, I'm such an attention whore.
Last night I finally met another HLOGer. Actually, I met two:
Finny
and
Cassie
. Several weeks ago Finny emailed me and asked if I was going to the Kings v. Minnesota game because for some unknown reason she was going (I guess she's just that dedicated to hockey!). Unfortunately I didn't go to the game but we soon found out that we would both be at the Kings v. Oilers game. She gave me her number in case I wanted to meet up and the day of the game I emailed her my number and suggested we meet up during warm-up behind the Oilers bench, since I figured it would be less crowded than near the Kings bench and I assumed she would want to ogle Penner. I mentioned that I was tempted to make a sign, something along the lines of:

"PENNERSQUEE, you're overrated!"
"PENNERSQUEE, you're a sellout!!"
"PENNERSQUEE, you're not worth the money!"
But I was worried that (a) my signs would never be able to live up to those that
Heather made for her Sabres
and (b) people might think that I was defending Anaheim...and that just could not happen.
Finny immediately called me and of course I missed the call. Her voicemail went something like this:
"Hey, umm, so I don't actually know your name!"
She also mentioned something about making signs, meeting up, and giving her a call. I went to Hockey and High Heels and as soon as it was over I called Finny to find out where we should meet. To my delight, Finny and Cassie were watching the warm-up near the Oilers bench. It was great to finally meet them and I had a blast for the 5-10 minutes that we hung out next to the ice shouting,
"PENNER!!!!"
everytime he skated by us. The first thing I noticed when I saw the Oilers was the size of Penner. Holy Hell, that guy is HUGE!!!!!! I literally could not get over it. Every couple minutes or so I would say softly,
"He is huge! He is enormous! How big is he?"
He was one of a few guys not wearing a helmet during warm-ups which also helped make him stand out more. I wish he had his mountain man beard because I think he looks even better with all of that scruff.
The first thing Cassie said to me when I moved to stand next to her was, "Oh wow, you're shorter than Finny!" Yes, I am. In fact, when I bought a pretzel during the second intermission, the guy serving me kept trying to make jokes which I never got because I couldn't really hear him and he finally asked, "How tall are you?" and when I told him I asked, "How tall are you?" Seriously, people....WTF?! Why does it matter that I'm really short? Have you honestly never seen a petite lady? I'm not a midget...but I am short, but there are plenty of people out there who are shorter than I am.

Finny and Cassie are a hilarious pair. They told me some great stories of spotting Ducks players around the Orange County beach areas. It was too bad that I couldn't experience an entire hockey game with them because I can only imagine how much fun they have watching hockey together. No offense to ckim, it is fun to watch her shout, "YOU FUCKER!!" amidst a surprisingly quiet crowd and watch people turn around to see who shouted it, but I couldn't stop laughing at Finny and Cassie when they were talking about Penner. He finally looked over at us near the end of the warm-up and we completely cracked up in a fit of laughter. Here's a pic of Penner bending over.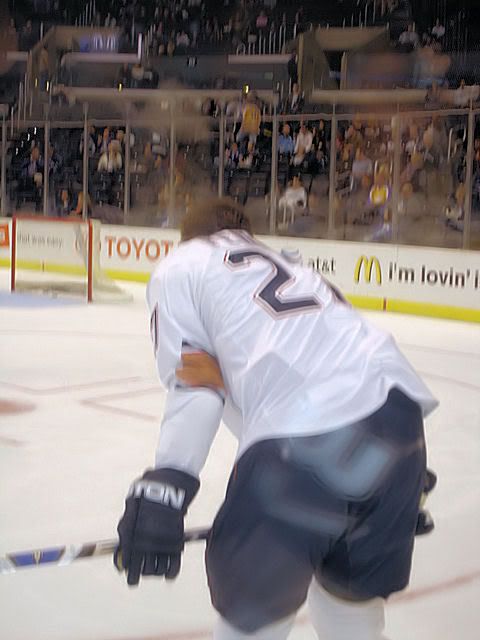 oh yeah, check out that ass...um...I mean, those hockey pants.
Unfortunately, we never got a pic of the three of us but I'm sure we'll meet up again.