I first read about "
Hockey and High Heels"
when Elly posted about it
here
. I then found out that the Kings were putting on a similar event and wrote about it
here
. I initially was completely against going because I thought it was so weird that an event was being held to educate females about hockey, but my friend convinced me that we should go. While the event was advertised as a "Ladies, learn about hockey!" event, it definitely was not. Here were the things we did from 1:30-game time:
Locker Room tour

On-ice clinic with Daryl Evans

Staples Center tour

Social Hour with Lisa Ovens and Luc Robitaille

Chalk Talk with Daryl Evans

Over 20 ladies were there and as we gathered before the Locker Room tour it became apparent that most of us were huge Kings fans. Several were season ticket holders, one went to London for the season opener, and several even play hockey! A couple gals looked like they didn't know much but that was just my assumption since I actually didn't get a chance to talk with them.

The Locker Room tour was just as expected but unfortunately none of the guys were there. It was fun to see where all the behind the scenes action happens and it was great to see all of us furiously snapping away pictures of everything. Next to the actual locker room where their equipment is located is another room where they all have stalls and matching workout shoes, and matching crocs. Rinslet, just for you, here's a picture of JMFJ's stall with his spandex shorts hanging on the mesh bag.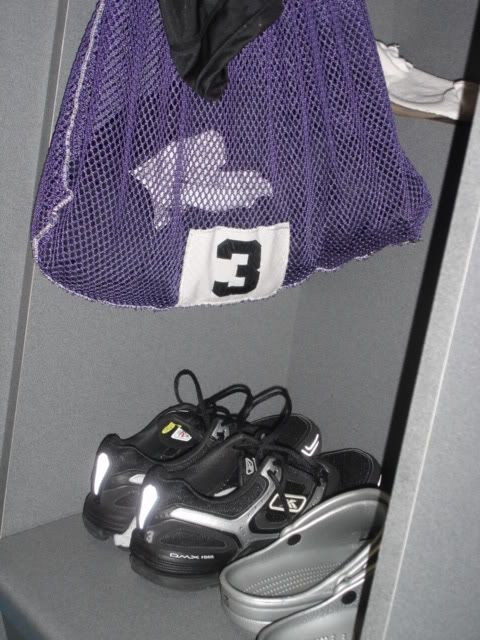 I bet he goes commando 'cause that's how he rolls.
The on-ice clinic was fantastic and I really couldn't have asked for better. If the Pittsburgh Hockey and High Heels event had an on-ice clinic I would definitely recommend going because that was probably the best part. Since only females were participating in the clinic it was a really fun and encouraging environment. A couple ladies had never skated before ever and were a bit hesitant to do most of the drills, but for the most part, everyone participated and had a blast.
The Staples Center tour was quite fascinating. Basically, there's a lot of fancy shit in the box level suites area that I will probably never see again.
The Social hour with Lisa Ovens and Luc Robitaille was pretty much combined with the Hockey Chalk Talk with Daryl Evans to form a single "session" where Lisa Ovens talked a bit about her book and why she wrote it and about being a female fan. Daryl then talked, not about the basics of hockey, but rather about the Kings organization. He discussed where the franchise has been in the past, where we are now, and where he sees the team being in the future. He was very frank with the group and I appreciated his honesty and willingness to discuss where the Kings are going. Luc came up and all the ladies were gushing with excitement. He reiterated a lot about what Daryl mentioned and cracked some jokes about the Kings. He made a good point that right now is the time for the Kings to start grasping the spotlight in LA. Since the Lakers are finally no longer a championship team and the Clippers are just floundering around that, finally, the Kings have the opportunity, especially with the group of young talented players, to start attracting the crowd and fan base that we are capable of amassing.
Of course, after his talk we bombarded him with photo requests. I brought a Luc Robitaille puck (that my brother got at a game several seasons ago and gave to me as a X-mas gift) and thankfully Luc signed it and I got a pic with him!!
During the game I was fortunate enough to sit next to
Lisa Ovens
and get to know her. She is a fantastic lady and is so much fun to talk to. Her mother, a 70-year old lady, grew up in Thunder Bay and came from such a huge family (18 children, I think) that a couple hockey players, including my favorite, Dan Cloutier, have married into her family. She's been a Canucks fan for years, is a current season ticket holder, and explained how the Canucks players are treated like royalty in Vancouver and that they're a bit inaccessible since the fans are so crazy about them. We also discussed Pyatt's beauty, the 4th OT game between Vancouver and Dallas, which she was at with her mother, and HLOG! Yep, she's heard about HLOG and I quickly piped up,
"I'm a part of HLOG!!"
If
Hockey and High Heels
is coming to an arena near you, I would highly recommend attending. If you're hesitant about going, I suggest emailing the contact person in charge of the event and ask what kind of female fans they're trying to target. I wish this event had been advertised in a better way, more towards, wanting to bring together female hockey fans rather than educate females about becoming fans. Regardless, I had such a great time and I really hope the Kings and other teams continue to put together similar events, not even just for females, but for all fans.