The Flames -- boring, bland and the personality of cardboard. The Oilers? -- Yes, they have nice, overly excited fans, but clearly it's a case of compensation as there's really nothing there to be excited about. Buffalo? -- Ha! Call me when your team's able to grow decent facial hair!

No, girls and boys, the rest are clearly fluff and filler. I present the Senators ... fashionably late ... (I hope).

Note: Graphic intense! It's worth the trouble though.

Antoine Vermette.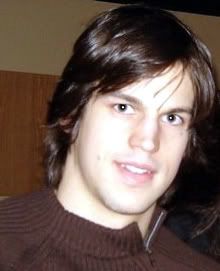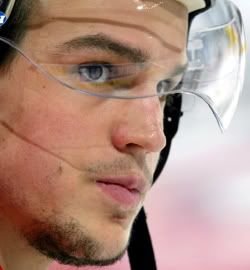 (top photo from the files of this Sens fan, edited for size, hopefully she won't mind)
the mold, the David from which all other pale, Québcois imitations (i.e. Daniel Briere, supposedly; José Théodore, et. al) have sprung;
flawless, creamy skin;
heartwrenching smile ;
seems like the type to blush, if you know what I mean.
Daniel Alfredsson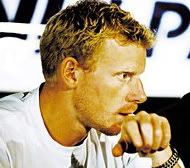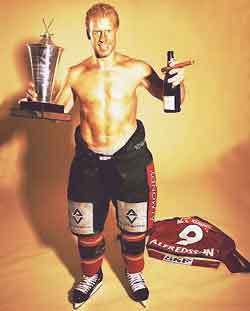 Alfie in the cold at a Save-Our Sens Rally, when the Sens were endangered; Alfie taking the brunt of playoff criticism; Alfie being Alfie;
hauntingly gorgeous;
refined Swedishness (i.e. not the Beowulf-lookalike Peter Forsberg, who looks like he's just as likely to pillage your village as he is to kill a monster with his bare hands.)
golden, bronzed, Norse God.
Patrick Eaves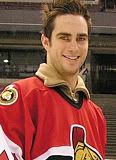 sexpot. sexpot. sexpot;
people will better catch on soon ... and take bigger photos of him... ;
"Sexy woman take me to your bedroom/ Let me show you how I work work work..." - DFA 1979 (RIP), Sexy Results.

Dany Heatley




the eye; the dilated eye, that expands into the sort of assymmetrical beauty of top supermodels;
wild, busy curly hair, the sort of look that he got too old to pull off but you know he'd do it if he could;
raw animal magetism when he's on the ice, lip curled and eyes blazing.

Jason Spezza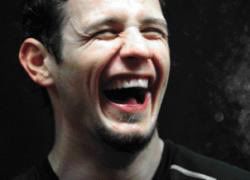 warm, easy grins and a sort of laughter that makes him easy to be around;
boyish, buyoant giggling and an easy manner;
frat-boy pretty;
has moments of quiet contemplation and determination that convince you he truly wants to be a good person.

Ray Emery

physical perfection.
there was a photo out a while ago of Emery's smooth, sculpted, tattooed chest as he was getting ink done. Where has it gone?!

Mike Fisher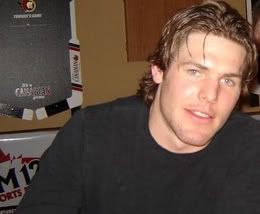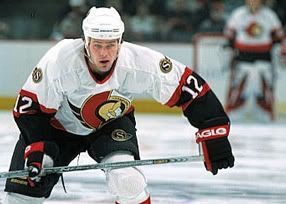 piercing eyes -- flawlessly blue like the Hope Diamond
well-built, natural looking torso;
clean, fresh, trustworthy.

Wade Redden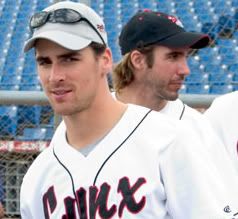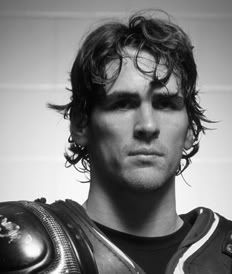 fig. 1-a: Redden's demonstration of how to mentally visualize undressing the viewer and make everyone nervous (and a little bit turned-on);
smouldering;
cheekbones of a Greek God.

Anton Volchenkov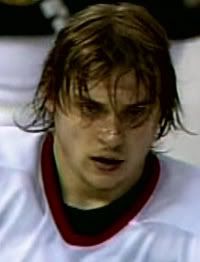 positively cherubic;
"hair-cut of a fourth-grader".

Alas, the Senators' previous hot quotient has been diluted into the league. But since there are no Atlanta or Chicago fans, I will include them as Senators, because in their hearts, they know they truly are. (Also, I've noticed that people tend to like either Heatley or Havlat ... but not both. Being of the Heatley persuasion, this is also a diplomatic gesture.)

Martin Havlat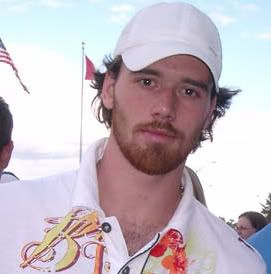 skanky sexpot;
unwashen, unshaven, lumberjackesque charm;
appears to be filthy in bed.


Marian Hossa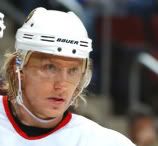 purely angelic.
Zdeno Chara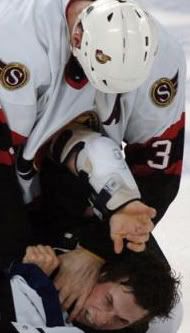 height of a giraffe, grace of a ballerina, teeth of a vagrant; hands of mercy!