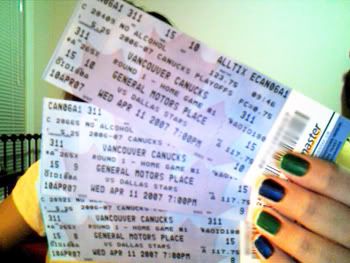 Got my tickets today for Game #1 of the Dallas Stars vs Vancouver Canucks playoff series. I'm very excited since this is my first ever playoff game, and I've been saving up for those tickets since... Christmas. :D I'm kind of jealous of the Canucks season ticket holders. They get customized playoff tickets: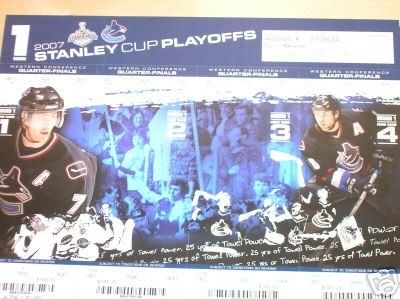 I wish my tickets were as pretty. :(

Anyway, is anyone else going to any playoff games this year? Does your team have any cool slogan or something to pump the fans up?

The Canucks have "Believe in Blue" going this year, along with the more traditional "Towel Power". I think they're trying to start the "Believe in Blue" tradition because I've heard that we're permanently switching to a predominantly blue (vintage blue!) jersey next year. I guess they've also decided that the Vancouver fans need a more permanent color now, after our jersey colors must have changed 3472347823 times over the years.

Good luck to the hloggers whose teams made the playoffs. :D I would have made predictions, but I don't want to jinx any team.