One of the benefits of the unbalanced schedule is the fact that I can love and cheer for my Western Conference boys without feeling too torn so I'll focus on the Eastern Conference guys that cause me to question my loyalties. Only in a fleeting manner though. Here's a brief list of the boys from the west though:

Michael Cammalleri
Jarome Iginla
Kipper!
Pretty much everyone on the Sharks
Paul Kariya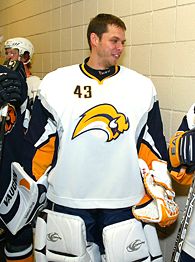 As for the east, we start with none other than
Marty Biron
. Seriously, I love Marty so much sometimes it makes me cry. It makes me cry because you know he's capable of being a starter but you have to admit to yourself that
Ryan Miller
was the better goalie. He just sat there and took it, never said schtum and ask anybody and they'll tell you he's the nicest guy in the NHL. He trash talks
Eric Staal
! He makes the same random noises as us when we're watching hockey! I'm thrilled he gets a chance to be a starter now, but unfortunately it's to the dark depths of Philadelphia who are struggling like mad right now. Happy Trails, Marty. You'll make us proud.
Oh and those gorgeous blue eyes don't hurt at all.
I might have a thing for goalies, but then again who doesn't. I admit that one of the reasons that Ward endeared himself to me was because he was a nice Christian boy. He lead the Hurricanes to the Cup last year and when he won the Conn Smythe I was steadfast in defending that decision since I do believe the 'Canes wouldn't have made it to the end without him. That being said, his regular season struggles can't be ignored. He's capable of coming up big but there are stretches where he just lets in bad goal after bad goal. He's capable of improving though and it's important to remember that he's still relatively young and most goalies don't hit their peak until their late 20's early 30's. The man is only 5 and 3/4 after all.
Brad Boyes
. For no specific reason except he's from Mississauga. And I thought I should throw a skater in here somewhere.
Edit
- This local news tribute of
Marty Biron's Greatest Hits
. Just when you thought Marty couldn't get more adorable, you throw his kids into the mix. See? Almost want to cry.